Before
This extraction system is suffering from an accumulation of FOG, meaning it is ineffective at doing its job. There is a very real fire hazard, numerous health & safety issues, and a hefty carbon footprint. There is also a stench of stale grease wafting through the restaurant. The cost to the business owner of maintaining this ventilation system can be significant.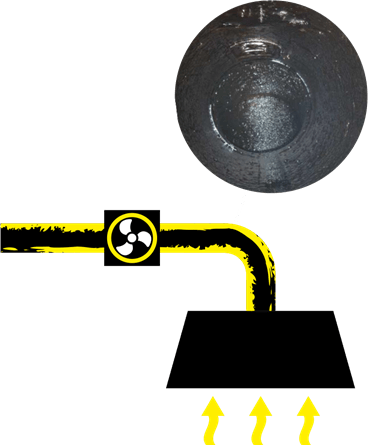 After
Installation of Vent AIR has transformed the effectiveness of this kitchen extraction system. Employees are happier due to a more pleasant working environment, diners are returning to the restaurant and environmental health have just awarded this kitchen 5 stars. The cost to the business owner of maintaining this ventilation system is both predictable and minimised.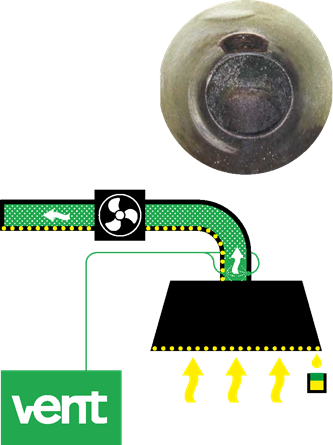 Duct Cleaning Ireland will carry out inspections on the kitchen extract systems to ensure that the ducts and extract fans are maintained to TR/19 standards. We then issue the TR/19 certs on the extract system.
The Vent AIR technology forms the basis of a service that reduces risks and ensures compliance 24 hours a day, 365 days a year. Vent AIR is not a 'fit and forget' concept. We help keep your ductwork continually clean, with frequent inspections and maintenance in a bespoke plan tailored to your business. Vent AIR is a unique technology that can significantly reduce risks, improve compliance and control costs.
AVERAGE ANNUAL SAVINGSOF…1,000s
Vent AIR has already been installed in over 400 kitchens throughout Europe, with our customers experiencing significant cost reductions in extraction system cleaning, maintenance and compliance.
REDUCE BIOCHEMICAL WASTE BY UP TO…75%
With health & safety and environmental management playing such a pivotal compliance role in the catering industry, installation of Vent AIR assists in meeting standards by significantly reducing the accumulation of waste fats, oils and greases in kitchen extraction systems.
IMPROVE AIR QUALITY BY UP TO...80%
Vent AIR dissolves waste fats, oils and greases into glycerine and fatty acids, which are then removed either via the air handling unit or via drainage tapes. Odours are encapsulated and rancid, unpleasant odours are absorbed.
Quick,
No Fuss

Installation

Vent AIR is not a 'fit and forget' concept. From your initial enquiry we will create a bespoke service plan that ensures your kitchen extract system stays continually clean, to TR19, 365 days a year. Our factory-trained engineers will visit your site throughout the year to verify the cleanliness of the entire route of your ductwork - not just the bits you can see - with ongoing inspections and maintenance.
Your initial enquiry
Site Survey
Bespoke proposal by Duct Cleaning IRE
Sign Off
Installation by factory trained engineers
Regulation inspection in accordance with TR19
Arrange a no
Obligation

site survey

Decide whether Vent AIR is right for you with a no obligation site survey. One of our team will work through a cost and benefit analysis to show how Vent can benefit your business.